About this Artist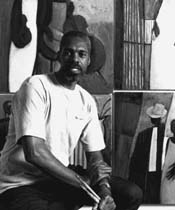 Joseph Holston's cubist abstractionist style has evolved over a fine arts career spanning more than twenty-five years. He is a critically acclaimed artist who has exhibited at numerous museums and institutions. These include the Butler Institute of American Art in Youngstown, Ohio; the Smithsonian Institution's Anacostia Museum, Washington, DC; the Fort Worth Museum of Fine Art, Texas; the Afro-American Museum, Philadelphia; the King-Tisdell Cottage Museum, Savannah, Georgia; the Arts Program Gallery at the University of Maryland; the University of North Carolina at Chapel Hill; the APEX Museum, Atlanta, Georgia; and the DuSable Museum, Chicago. His work was also included in the exhibition "American Painters in Paris", and the Department of State's "Art in the Embassies" program.
He has also exhibited and been a guest lecturer at DePauw University, the University of Maryland, the University of Dar Es Salaam, Howard University, Bowling Green State University, and the Visual Arts Center of NW Florida. His work has been commissioned by the AFL-CIO, the Miller Brewing Company, the National Urban Coalition, the National Medical Association, Gallo Winery, and the Washington Urban League. Holston was selected to be the official artist of the Chicago Jazz Festival in 1996 and 1997.
Works by Joseph Holston are included in numerous museum, institution and private collections. Among these are the permanent collection of the Lyndon B. Johnson Library at the University of Texas, the Banneker-Douglass Museum, Annapolis, Maryland; the King-Tisdell Cottage Museum, DePauw University, Howard University, Montgomery County, Maryland; the George Meany Center for Labor Studies, the Hubert H. Humphrey Collection, the Evans-Tibbs Collection, and New York City's Schomburg Center for Research in Black Culture.