About this Artist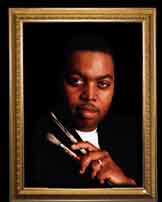 Born the middle child and only son to Reverend and Mrs. Charlie Thompson of Virginia, André has no problems applying his childhood experiences to his art. It was not until his senior year in high school that André took art seriously. In 1986, he received his BFA in Fashion Illustration from Virginia Commonwealth University. In 1987, he moved to Atlanta where he now resides with his lovely wife and business partner Yolanda. André is known and respected throughout the business community of Atlanta for not only his creative skills, but for pioneering many businesses and special projects himself. The most recent being the newly launched record label, Testimony of Records (There's no testimony without a test). With the aid of some of America's top producers, songs coinciding with his art pieces capture Andre's annointed vision in music.
It was in the spring of 1996 after receiving much support from his family and friends that André decided to venture into the fine art arena. His first exhibit was displayed at the National Black Arts Festival in 1996. Through much excitement and desire for new art forms and mediums -- mainly his tapestries, collectors across the nation are adorning their walls with André with open arms.
André's Vision: "My art is merely an extension of who and what I am. I can only paint or produce my experiences and in many cases, my testimonies. I thank God that I was raised by praying parents. I respect my art for the ministry that it is. Just like a prepared sermon, I ask God for it. He has not failed me yet, giving me pieces like 'Real Men Pray', 'Lord it's me again', 'Peace be still', 'Look to the Hills', 'When the praises go up', 'Take it higher', and many originals that follow suit. This is very exciting and rewarding to me as well as my collectors. The most exciting part is that God is not through with me yet!