About this Print

Giclee- A fine art print that has become more precise with the advent of the revolutionary printing process Giclee (zhee-clay) a French term meaning "spray of ink." In the Giclee process, a fine stream of ink (more than four millions droplets per second) is sprayed onto archival art paper or canvas. Each piece of paper or canvas is carefully hand mounted onto a drum which rotates during printing. Exact calculation of hue, value and density direct the ink from four nozzles. This produces a combination of 512 chromatic changes (with over three million colors possible) of highly saturated, non-toxic water-based ink. Since no screens are used in Giclee printing, the prints have a higher resolution than lithographs and the dynamic color range is greater than serigraphs.

About this Artist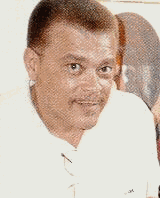 Diversity is the key to Albert Fennell. He is as proficient in oil as he is in pastel or ink, creating depth, dimension and illusions of exemplary quality. Born in San Diego, California, Fennell's talent came at the early age of five when he started drawing in-depth pictures of cartoon characters. As a young man in the 6th grade at Ocean View Elementary School, his landscape done in tempera paint was selected in a district-wide competition and was exhibited in the San Diego Museum of Art. He studied fine arts at San Diego Mesa College, commercial drawing at San Diego City College, and refined his skills at Alexander's School of Drawing, Printing, and Design.

Fennell's artwork has been seen on the television series, "Generations", and he has received commission from Rosa Parks, Anita Baker, Jesse Jackson, and Father Clement. Fennell states, "Through my work, I try to create a communication level between all people dealing with truth, pride, and compassion. I thank God for the talent He has given me and the opportunity to present it to you."