About this Print

Image Size 24" x 18"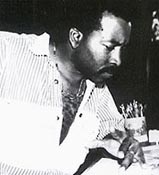 Charles Bibbs is a native of the Los Angeles Bay area and second child of a family of ten. Bibbs' range of versatility extends from mixed media drawings and paintings to clay vessels and masks. Most of us are moved by his bold and powerful visual statemtns and his unusual style of fusing acrylic paint and ink.

Charles has been featured in numerous newspapers and magazine articles, radio shows and television programs. In addition, Bibbs has concsistently participated and supported organizational art exhibts and community affairs.