About this Print

Expressions™ captures the essense of our rich cultural heritage in simple expressions with a message to be passed down through generations.

Text below Print

Our Story unwritten, and often untold... Our History of richness, and People so Bold... Never forget your true Heritage! We are Kings & Queens, Scientists & Scholars of then & Now! Each day we write history for our grandchildren to see. Celebrate Black History as God willed it to be.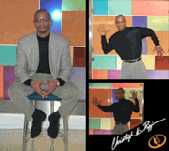 Christopher's own words:

"Art and Design has been my way of expressing the world as I see it, both from within and externally, for as long as I can recall holding a crayon. While some folks are graciously blessed to sing, act, write or dance to express their viewpoints, I must have found myself in the blessing line that put the creative, visual & illustrative talent into my soul. My images combine African American, Asian American, Latin American and Native American sybolisms, all of which influence my cultural composition."