About this Print

Expressions™ captures the essense of our rich cultural heritage in simple expressions with a message to be passed down through generations.

Text below Print

Born into a world where differences make me unique, where the color of my skin sets me apart from the rest of the world, I exist only to succeed and help my fellow man succeed. A rich heritage precedes me, a bold future lies ahead of me, and the present is where I begin to make my contribution to the planet. Proud to be who I am, I will ensure the existence of my people and for the rest of my life shall I be... a BodyInBlack!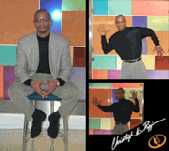 Christopher's own words:

"Art and Design has been my way of expressing the world as I see it, both from within and externally, for as long as I can recall holding a crayon. While some folks are graciously blessed to sing, act, write or dance to express their viewpoints, I must have found myself in the blessing line that put the creative, visual & illustrative talent into my soul. My images combine African American, Asian American, Latin American and Native American sybolisms, all of which influence my cultural composition."