About this Print

"COURAGE" is dedicated to all of our wonderful & beautiful women who are engaged in the battle against Breast Cancer. We want you to know that we are here to support you and we Love you! Help advance the developments of a cure for the disease that has affected the lives of our Mothers, our Sisters, our Daughters and our Queens.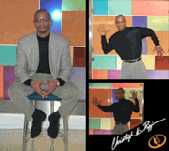 Christopher's own words:

"Art and Design has been my way of expressing the world as I see it, both from within and externally, for as long as I can recall holding a crayon. While some folks are graciously blessed to sing, act, write or dance to express their viewpoints, I must have found myself in the blessing line that put the creative, visual & illustrative talent into my soul. My images combine African American, Asian American, Latin American and Native American sybolisms, all of which influence my cultural composition."